Sri Lanka: dispute over how to help civilians in war zone
Caution is guiding the international response as fighting intensifies between the government and the rebels.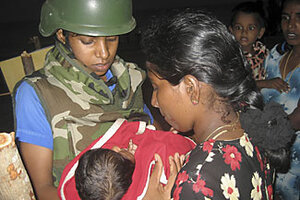 REUTERS
As fighting between government troops and Tamil Tiger rebels intensifies in northeast Sri Lanka, calls to spare as many as 180,000 trapped civilians are growing. But in the debate over how far to push a warring government, caution is guiding the international response.
Last week, Secretary of State Hillary Clinton voiced "deep concern" to Sri Lanka over rising civilian casualties in a government-designated no-fire zone. The Red Cross, which normally prefers quiet persuasion to arm-twisting, has raised the alarm over a humanitarian crisis in the remaining pocket of rebel-held territory, where makeshift hospitals are out of needed drugs and food supplies are dwindling.
But this outcry has failed to sway Sri Lanka's government, which dismisses its critics as biased and reliant on propaganda from the Liberation Tigers of Tamil Eelam (LTTE), which has fought a bloody war for self-rule since 1983. Government officials defend the military's conduct in pushing back the rebels and say the onus is on the LTTE to let civilians flee the conflict, not use them as shields or force them to fight.
Behind the diplomatic exchanges are divisions within the international community over the proper response to apparent violations of international law by both sides. Far from pressing hard for action, some United Nations officials have muffled internal reporting from the war zone, to the frustration of aid workers and human rights activists who accuse the UN of cowardice in the face of a belligerent government.
---