Nepal's Maoists lose support over Army chief's sacking
Prime Minister Prachanda resigned Monday after coalition partners and the president opposed the move.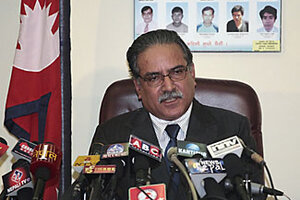 Deepa Shrestha/Reuters
A day after his controversial decision to sack the country's Army chief, Nepal's Prime Minister and Maoist leader Prachanda found himself so politically isolated that he resigned Monday.
Prachanda's unilateral move to fire Gen. Rookmangud Katawal had prompted the president to overrule him Sunday. Coalition partners also withdrew their support of the Maoist-led government, stripping it of its parliamentary majority.
But Maoist hardliners – who wanted to replace General Katawal with a leader more willing to integrate fellow ex-rebels into the Army – supported the sacking.
The prime minister's decision to fire Katawal highlights the immense pressure he had been facing from within his party.
"Prachanda chose to lose his premiership rather than lose his command over his party," says Ameet Dhakal, editor of Republica, a leading English-language daily.
The political disarray also jeopardizes a peace process launched in 2006, which invited former rebel Maoists to join the government and help write a new constitution by 2010.
But in his televised address announcing his resignation, Prachanda ruled out the possibility of his party returning to war. "I remain committed to the ongoing peace process," he said.
He also defended his decision to sack Katawal as asserting civilian supremacy and accused President Ram Baran Yadav of making an "unconstitutional and undemocratic move."
Sacking ends up hurting Maoists
The pullout of two key parties – including the second-largest coalition partner, the Communist Party of Nepal – cost the Maoists 118 votes in the 601-member parliament. The Maoists command 238 seats after a surprise win in assembly elections last April. Another coalition partner, the Madhesi Janadhikar Forum, which holds 51 seats, may also quit.
---