Before David Rohde escaped, a flurry of efforts to win his release
The team working to free the New York Times reporter reached out to kidnappers and debated whether to go public.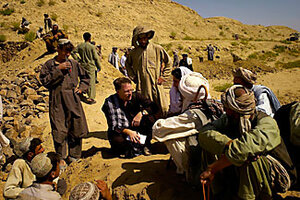 Tomas Munita for The New York Times /handout/ Reuters
Kabul, Afghanistan; and New York
On the morning of Nov. 10, New York Times reporter David Rohde set out with an Afghan translator and a driver on a short trip that would turn into a seven-month kidnapping. Mr. Rohde was finishing a book about the history of American involvement in Afghanistan, and a Taliban commander in Logar Province just south of the capital had agreed to meet him. In recent years the area has fairly swarmed with Taliban units as well as kidnap-for-ransom gangs.
For Rohde and his fixer-translator, Tahir Ludin, the ordeal ended Friday after they jumped the wall in the compound in a Pakistani tribal area where they were being held, and escaped to freedom. The driver, Assadullah Mangal, remained behind. (The Times wrote in an early version of its article on the escape that Mr. Mangal decided not to join them, say several journalists who read the report. Later versions did not include this.)
For months the Times had begun working with US officials, private security contractors, and its own staff to try to win Rohde's release, according to several people involved in the effort.
Abductors made quick contact
---