India's longtime battle with Maoist rebels heats up
The government warned of more attacks Monday after Naxalites called a two-day strike to protest an offensive in Lalgarh, West Bengal.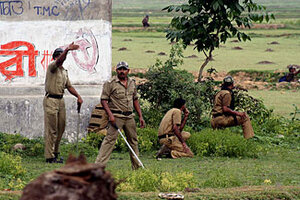 Sucheta Das/AP
Eleven police officers were killed in an ambush by Maoist rebels in the central Indian state of Chhattisgarh Sunday, as fears grow that the decades-old revolutionary movement is gaining ground in more parts of the country.
Seven rebels were killed in the attack launched by the rebels, also known as Naxalites, after the West Bengal village of Naxalbari where in 1967 poor villagers rose up against their landlords.
Since then, the movement, which claims to fight for India's poorest, has spread across strips of eastern, central, and southern India. Naxalites now operate in at least 11 of the country's 28 states and are thought to boast some 22,000 fighters.
On Monday, the central government warned that five states in central and eastern India were under threat of attacks during a two-day strike called by the rebels.
That strike was called to protest against a government offensive in Lalgarh, a Maoist-seized jungle enclave in West Bengal. Last week, after the local police fled, the state government sent 1,000 paramilitary forces to Lalgarh where they are still fighting to commandeer hundreds of villages.
Many rural poor to recruit
Here, as in other areas affected by Naxalism, the rebels have set out to attract the poor and alienated – "any group that has a grievance," says Ajay Sahni, a terrorism expert at the Institute for Conflict Management in New Delhi.
---