Pune, India: A mix of Hindus, Muslims, and foreigners a target for a terrorist attack
Pune, India – with its cosmopolitan mix of Hindus, Muslims, entrepreneurs, and upscale hotels – is seen as a ripe target for another terrorist attack.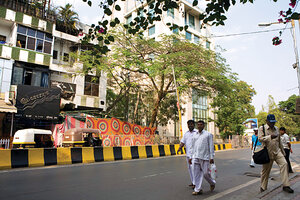 Melanie Stetson Freeman/Staff
Mark DiPaolo, an American stock trader in Pune, dropped into the German Bakery for his morning croissant, chai, and chats with friends. That evening last month, at home with his wife, they felt the massive bomb that ripped through the bakery and killed 17 people.
"Boom. We knew what it was," says Mr. DiPaolo. They had been expecting an attack in sleepy Pune since last autumn, from the moment they heard that Pakistani-American terror suspect David Headley had spent time here. "We looked at each other and thought… here it comes."
The Manhattan couple had experienced Sept. 11, 2001 up close: She in an office in Midtown, he losing so many friends he stopped attending the funerals. Their move to Pune (POO-nay) – a city with little global cachet – unexpectedly put them even closer to the bull's-eye of a terrorist attack.
The German Bakery is no World Trade Center. But the bakery, like the towers, stood for cosmopolitanism, and Pune, like New York City, represents this country's greatest melting pot of foreigners, students, and upwardly mobile Indians.
---