In India, beaten US journalist becomes focus of police torture probe
A report on 'widespread and systemic' police torture in India was published today, focusing on the case of US journalist Joel Elliott. Mr. Elliott claims that Indian police beat him severely while he was in their custody.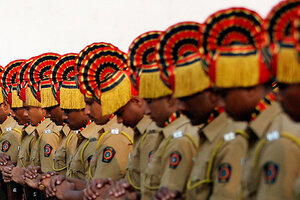 Arko Datta/REUTERS
An American journalist beaten in New Delhi during a run-in with police six months ago has become the focus of a broader antitorture push in India.
Joel Elliott, a journalist who has written for The Christian Science Monitor, The New York Times, and other publications, suffered severe wounds on his head, legs, and back – as well as a black eye – in the October 2009 incident. The Delhi police have yet to respond to an official human rights complaint filed five months ago.
Mr. Elliott, now in the US, charges that the police beat and tortured him over the course of six or seven hours that he was in custody and refused his pleas to call the US Embassy.
Graphic photos of Elliott's injuries form the cover of a new watchdog report entitled "Torture in India 2010" released Tuesday. (A PDF copy can be downloaded here, but readers should be forewarned that they may find the images disturbing.)
In the report, activists welcome a new government push to pass an antitorture bill, but warn the effort may not be enough to stop what they see as a worsening problem.
"You have a case here who is distinctly identified as a foreigner, who looks like a European. If that person can be subjected to torture in such a manner – the photographs speak for themselves – in the heart of Delhi, one can imagine what would happen to the aam admi [common man]," said Suhas Chakma, director of the Asian Centre for Human Rights in Delhi and editor of the report.
---