Qayyum Zakir: the Afghanistan Taliban's rising mastermind
Mullah Abdul Qayyum Zakir, a former Guantánamo detainee, is considered to be the day-to-day leader of the Afghanistan Taliban insurgency. A look at his rise to power based on interviews with more than a dozen current and former associates.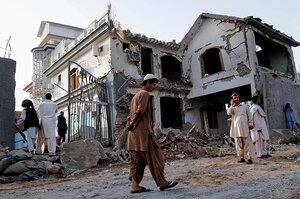 Rahmat Gul/AP
In the days leading up to the launch of a major US military offensive in the Afghan town of Marjah in February, Taliban commanders in the area received a surprise visit.
It was from a charismatic man of medium build, intense eyes, and a knack for fiery oratory. In a brief meeting, he rallied the troops, discussed strategy, and disappeared into the night.
Most of the commanders present there in late January had not met him before. But in southern Afghanistan he needed no introduction. He was Mullah Abdul Qayyum Zakir, the man who some Western officials and insurgents say is now the day-to-day leader of the Taliban.
"He has tremendous power now," says a tribal elder in the southern province of Helmand, who knows Mr. Zakir and met with him recently. "He can design military strategy and appoint or fire" Taliban shadow governors.
As the United States escalates its troop numbers to try to roll back a raging insurgency, combating the efforts of Taliban leaders like Zakir will be key. Zakir is known for his battlefield abilities as an organizer, motivator, and tactician. He wields tremendous influence in southern Afghanistan, the heartland of the insurgency and the site of another major offensive set for this summer.
---