India's 2010 census considers taboo question: What's your caste?
India abolished caste divisions decades ago, and now uses quotas to help bottom-caste members get jobs and education. Updating caste data in the 2010 census could help refine the quotas, but critics see it as a regressive step.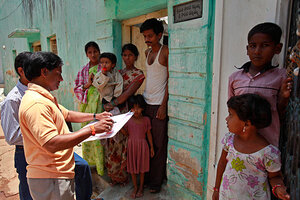 Mahesh Kumar A/AP
Soma Maiti did not think that her caste was a big deal until she fell in love.
The Brahmin – a member of the caste at the top of Hinduism's vast hierarchy – had always had friends from lower castes. Like most modern, urban Indians, she considered herself largely blind to the ancient system that for millenniums determined position in life in India.
But when the charity worker from West Bengal told her parents she wanted to marry a low-caste man, they were appalled. "They immediately tried to get me married to someone they regarded as eligible simply because he was a Brahmin," says Maiti, who married the man of her choice and endured five years of silence from her family.
In an acknowledgment of the role caste continues to play in Indians' lives, the government is considering including caste in its once-a-decade census. If it does, it will be the first time Indians will be asked their caste since 1931, when the country was ruled by the British.
The proposal has whipped up a storm of controversy, with critics of the plan arguing that including caste in the census will reinforce an unjust and divisive system that India's Constitution sought to banish 60 years ago. Indeed, after winning independence in 1947, India's political leaders erased caste from official forms and records.
The Congress Party, which formed independent India's first government and has led the country for much of its subsequent history, has repeatedly resisted calls to include caste in the census in recent years.
Its change of heart is probably prompted in part by political considerations. The calls have come from a number of regional caste-based parties that have sprung up in the last two decades, using caste inequality to mobilize voters. As head of a coalition government, without a majority, Congress needs the support of smaller parties such as these to push through important legislation in the coming months.
Benefits for bottom castes
But many also believe that a nationwide caste count is necessary to bring greater social justice.
---