What could $1 trillion in mineral wealth mean for Afghanistan?
US and Afghan officials estimate $1 trillion in untapped Afghanistan mineral wealth that they say bodes well for the country's economic future. But others are skeptical.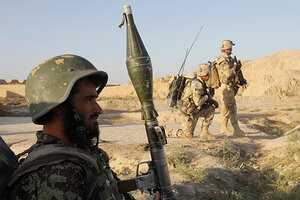 Denis Sinyakov/Reuters
US and Afghan officials claim to have discovered more than $1 trillion in untapped copper, iron, and lithium deposits in Afghanistan, enough to significantly bolster the future development of the war ravaged country.

But there remains skepticism about Afghanistan's mineral wealth, as some critics argue that the extent of un-mined deposits is being inflated to garner support for the war.
Unlike Iraq, Afghanistan is not generally thought of as being rich in natural resources, at least in part because what mineral wealth it has is hard to get out and a long way from a port.
To be sure, Afghanistan has been known to have extensive iron, copper, and gold deposits since at least the late 1960s. The Aynak copper deposit, discovered by the Soviets in the mid 70s but left undeveloped due to war and weak domestic infrastructure, is now being developed by a Chinese company. The Afghan government expects to reap $1 billion a year in taxes and fees from Aynak when it eventually goes into production, though that still appears to be years away, as efforts to build the necessary roads and power plant have been slowed by the war.
Those kind of delays - caused by Taliban attacks, tough winter weather, and dilapidated existing infrastructure -- also make developing mines here more expensive, and are one reason that investment has been held back.
---
Follow Stories Like This
Get the Monitor stories you care about delivered to your inbox.