India's strategy of suppression in Kashmir could backfire
India has imposed a curfew on Kashmir and squashed nonviolent rallies. Now a cycle of retaliation between rock-throwing boys and gun-wielding security forces has set in.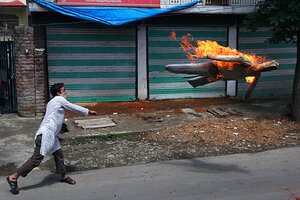 Dar Yasin/AP
Carefully, in ones and twos, residents of Srinagar emerged from their homes for the first time in a week to pray at small mosques Friday.
Prayers were tense. The city's larger mosques remain blocked by police for the fourth week following the government's imposition of a strict curfew in June, and thousands of Indian security forces were ready to swoop in on any potential protests among pro-independence activists.
Police say only four protests occurred across the Indian-controlled Kashmir region. One protest in Srinagar swelled to 1,000 people, though tear gas quickly broke its ranks. In the village of Palhalan, someone from within the protest crowd shot a police officer twice in the leg.
But separatist leaders and police officials are now warning that the government's apparent strategy of curfews and suppression lacks a political roadmap and could, in the long run, send the current generation of rock-throwing boys back to the gun-and-grenade warfare that dominated the 1990s. Human rights groups say 19 civilians have died since June 11 in clashes between protesters and security officials.
Kashmir back to the future
"You have the environment that you can push the people again toward what had started in the early '90s. But we don't want that to happen," says Mirwaiz Umar Farooq, one of the two top separatist leaders. Both are currently under house arrest. "Today boys are out pelting stones. Tomorrow these are the same boys who will probably pick up the gun. "
He and most Kashmiris say their struggle is not religious at its root, but about self-determination. However, Mr. Farooq warns that the closure of main mosques – smaller mosques have remained open – starts down a dangerous path.
---