Afghanistan's new war crimes museum punts on still-powerful warlords
A war crimes museum in northeastern Afghanistan documents the past three decades of atrocities. But it displays little about perpetrators who remain influential today.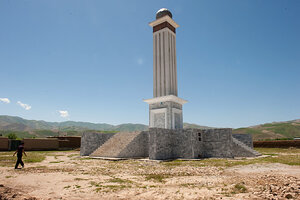 Monique Jaques/Special to The Christian Science Monitor
He was a very tall man who wore outsized shoes and blue clothes. Sayed Husain taught history and prayed at the mosque, and for that he was thrown into jail in 1979. Educated people like him were the first to be rounded up when the communists came to power in 1978, kicking off Afghanistan's three decades of turmoil.
It wasn't until recently that Husaini's sister, Masooma, found those shoes among the remains of hundreds of people in a mass grave in northeastern Afghanistan, helping to close a dark chapter for the family.
At the mass grave site here in Faizabad sits Afghanistan's first war crimes museum, which opened in December. It has three small wings, one for each decade of bloodshed. The '80s wing is lined with framed photos of those who were buried with Husain, and a glass case with their unearthed effects: keys, prayer beads, a gold tooth, coins, a lime-green comb caked with dirt. The other two wings are emptier, highlighting the trouble Afghanistan faces in coming to terms with atrocities committed by those still jockeying for power.
Some of the perpetrators who came after the communists – warlords like Abdul Rashid Dostum and Gulbuddin Hekmatyar – were not as soundly defeated. Mr. Dostum remains an ally of the government, delivering many thousands of votes for President Hamid Karzai from his ethnic Uzbek followers. Mr. Hekmatyar, meanwhile, is now negotiating with the Karzai government after years of fighting alongside the Taliban.
---