Afghanistan election: How to campaign in a war zone
Parliamentary candidates in the Afghanistan election to be held Saturday say the only way to campaign safely is by telephone.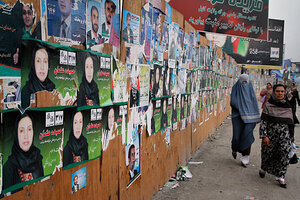 Musadeq Sadeq/AP
On the final day of campaigning for Saturday's parliamentary election, NATO's secretary general said that security in Afghanistan should allow for "a free and fair" contest. But some Afghan candidates say in this election "free and fair" is relative. For them the only safe campaigning is done by telephone.
In many provinces, campaign rallies are increasingly part of a bygone era replaced with long-distance campaigns. Outside Kabul and a few safer cities, election gatherings – when they happen at all – tend to be intimate meetings indoors. Some incumbent members of Parliament cannot safely drive from Kabul to their home districts anyway.
IN PICTURES: Afghanistan election
The curtailed campaigning is a loss for Afghan voters, as it tends to limit their chances to question candidates and helps local power brokers and those who will game the system.
"When you have poor security it affects turnout, and light turnout leads to a proliferation of blank ballot papers that can be manipulated," says William Maley, an Afghanistan expert at the Australian National University.
Daoud Sultanzai, a member of Parliament from southeastern Ghazni province, somberly compares this month's campaign to his successful 2005 run. Back then, he traveled without guards and slept in hotels as he visited five different districts in the province.
---