Pakistan drone attacks kill Germans in response to Europe terror plot
Up to eight German nationals were killed in Pakistan late Monday as part of a surge in US drone attacks believed to be in response to a Europe terror plot.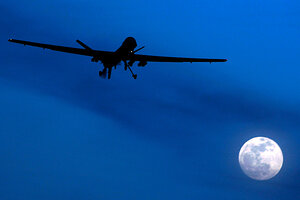 Kirsty Wigglesworth/AP/File
A Predator drone strike in Pakistan's rugged Tribal Areas killed a number of German nationals late Monday, as part of a surge of drone attacks widely believed to target the training area for the planners of an Al Qaeda terror plot in Europe.
The alleged terror plot has set off a Europe-wide travel alert issued by United States and Japanese authorities, and the drone strike's possible success in thwarting Al Qaeda could prove to be a boon for proponents of the controversial attacks, which Pakistan argues are a violation of its sovereignty.
Pakistani intelligence officials told Reuters that up to eight Germans were killed by two missile strikes in the town of Mir Ali, North Waziristan, home to the infamous Haqqani militant network. Other news agencies placed the death toll at five. The citizens are believed to be of Pakistani origin, as well as Turkish or Arab. In September alone, the US carried out 22 drone attacks, mainly in North Waziristan.
---