US defends unmanned drone attacks after harsh UN report
(Read article summary)
UN special rapporteur Philip Alston on Wednesday called for a halt to US unmanned drone attacks, which he called a path to a 'Playstation' mentality towards killing.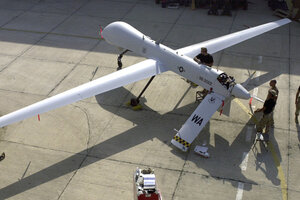 REUTERS/U.S. Air Force/Handout/Files
• A daily summary of global reports on security issues.
US officials and security analysts defended the use of unmanned drone attacks, after a UN official urged a halt to such killings in a strongly worded report released Wednesday.
The debate comes in the wake of reports that Al Qaeda's No. 3 commander, Mustafa Abu al-Yazid, was killed along with his wife, three daughters, and a grand-daughter in a US drone attack in Pakistan.
Since 2004, the US has conducted a covert assassination campaign against suspected Al Qaeda and Taliban militants in Pakistan, using unmanned drones often operated by the Central Intelligence Agency (CIA) in control rooms thousands of miles away. Drone use has soared under President Barack Obama. (Agence France-Presse offers a graphic of a how a drone operates.)
---