Final Afghan election results show Hazara minority trumped dominant Pashtuns
Hazaras' strong showing is concerning to majority Pashtuns – many of whom couldn't get to the polls because of insecurity – and casts doubt on how fair the election was.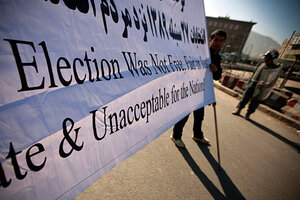 Ahmad Masood/Reuters
Nearly two months after Afghans cast their votes in the parliamentary election, the country's Independent Election Commission released the final results for all but one area of the country.
While concerns remain about corruption and fraud, one of the biggest flash points ahead may prove to be the disproportionately large number of Hazara representatives elected – especially compared to Pashtuns, the largest ethnic group in Afghanistan.
"It is indeed the deprivation of a very large group in the country, pushing them further towards isolation," says Haji Mohammed Hazraq, a member of the provincial council in Wardak. "One of the biggest reasons for insecurity is that the Pashtuns don't see their representatives in the government, despite being the largest group in the country."
The swell in Hazara representation comes in large part from insecurity in Pashtun regions that kept potential voters from the polls on election day. Throughout the country, most of the fighting takes place in Pashtun areas and the Taliban is almost exclusively Pashtun movement. As a result, they were more likely to experience threats and danger on election day and military forces had greater difficulty securing their areas.
"The security forces created a vacuum, nobody was there, and the Taliban threatened them," says Israr Khan, the president of the Awakened Youth Association, a political awareness group focused on creating peace.
Hazaras' disproportionate strength
Early analyses of the final results show that the Hazara community may have snagged a share of the lower house that represents as much as double their actual proportion of the population.
---