WikiLeaks cable accusing India of Kashmir abuses may rattle tense region
WikiLeaks released a US cable from India in which the International Committee of the Red Cross described routine torture at Indian detention centers.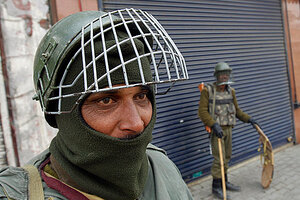 Fayaz Kabli/Reuters
A leaked US embassy cable in which the International Committee of the Red Cross (ICRC) describes routine Indian torture against detainees in Kashmir between 2002 and 2004 threatens to heighten tensions in the disputed region after a summer of deadly violence.
The cable, which is one of 250,000 secret US documents WikiLeaks has been releasing in recent weeks, was among several published today from US diplomats in India.
In an April 6, 2005, document, an American diplomat describes being briefed by the ICRC on what the organization says is the routine use of torture to interrogate detainees. Close to 1,500 prisoners were interviewed by the organization during 177 visits to detention centers between 2002 and 2004, according to the cable. The ICRC said they were subjected to beatings, electrocution, and other abuses.
"The ICRC is forced to conclude that [the government of India] condones torture," the cable said.
While many activists involved in the struggle against India for an independent Kashmir have long alleged abuses, revelations that ICRC had found widespread abuse come as the situation in Kashmir remains extremely fragile.
---