Kashmir intifada? New view of India, Pakistan territory dispute.
Street violence gripping Kashmir is becoming known as the Kashmir intifada, in a nod to the earlier uprisings of Palestinian stone-throwing youths against Israeli forces.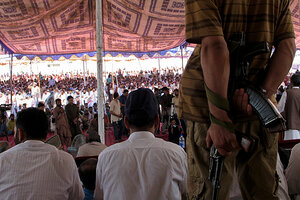 Roshan Mughal/AP
Indian analysts are starting to refer to the street violence gripping Kashmir as the "Kashmir intifada," a nod to the earlier uprisings of Palestinian stone-throwing youth against Israeli forces.
Tensions remain high in the Kashmir Valley, with the main city of Srinagar shut down today – a historical holiday known as Martyr's Day – due to strikes and a reimposed curfew.
The use of the phrase intifada, which means uprising, highlights how the unrest in Kashmir has been led by rock-throwing boys, not the trained militants or political factions of the elder generation. It was that generation's earlier efforts that failed to end India's military presence in the disputed region along the Pakistan and Indian border where many Kashmiris simply want independence.
The root cause of boys throwing stones
Intifada also harks back to the cycle of violence unleashed in the Palestinian territories. The same dynamic has emerged in Kashmir this year: boys throw stones at security forces, those forces fire back and kill youths, protests start anew, more rocks are thrown, and more protesters are killed. In the past month alone, at least 15 people have died in the clashes.
"What we are witnessing in certain areas of Jammu & Kashmir is the beginning of an intifada," writes B. Raman, former head of counterterrorism for India¹s intelligence service, in India¹s Outlook Magazine.
---