How Pakistan views the assassination of Salman Taseer
The assassination of the governor of Pakistan's Punjab Province, Salman Taseer, has prompted a litany of responses across Pakistan, from praise to lament.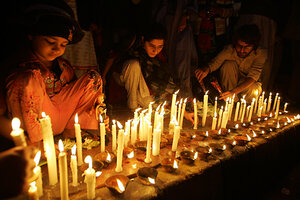 Fareed Khan/AP
• A round-up of news and editorials.
Salman Taseer, the governor of Pakistan's Punjab Province who was assassinated in Islamabad Tuesday, was widely seen as one of the country's most important progressive political figures. His death has prompted a litany of responses, from praise to lament to the conspiratorial.
The one thing that observers seem to agree on is that the outpouring of praise for his killer is intensifying the divide between religious and secular elements within Pakistan's already shaky government.
The assassination, editorializes Pakistan's daily Dawn, "has unleashed a torrent of commentary about the decline of society, and rightly so. The story of the latest political figure killed at the hands of an extremist, though, has a twist to it: Mr. Taseer broke no law, temporal or spiritual, but was instead killed for questioning a law. That unprecedented motive for an assassination ought to be reflected on. The country appears to have lurched to the conservative right even further and more abruptly than ever before in recent years."
---
Follow Stories Like This
Get the Monitor stories you care about delivered to your inbox.