Japan's Fukushima crisis drives protests over world's largest nuclear plant in India
Even as Japan has decided to forgo nuclear expansion following the Fukushima crisis, India's government is insisting it will proceed with the world's largest nuclear facility despite mounting public opposition.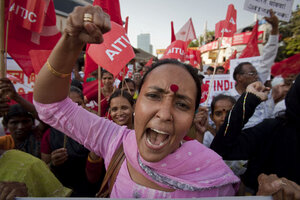 Vivek Prakash/Reuters
Japan's nuclear crisis has influenced a protest movement in India that is violently opposing plans to build the world's largest nuclear plant. As international agencies eye India's growing energy market, they'll also be watching how India responds to this case.
India's break-neck growth has driven an intense need for energy – and nuclear power has been accepted within the country as a suitable and clean way to deliver this. But in the wake of the crisis at the Fukushima Daiichi nuclear power plant, citizens in and around Jaitapur, the seismic activity-prone region where the Indian government plans to build a 9,900 mega watt power station, are upset.
Tensions came to a head in mid-April when one antinuclear demonstrator was killed during a protest, and several others were injured.
"The locals, especially after what's happened in Fukushima, are not of two minds. They simply don't want it," says Greenpeace India activist Vinuta Gopal. "They see nothing to gain from it, and everything to lose," she says. On top of that, "India certainly doesn't have [Japan's] capacity for disaster management preparedness."
RELATED Top 10 most nuclear-dependent nations
India has 20 nuclear plants in operation, providing only about 3 percent of the country's energy. Another 23 are on the way, according to a former government minister, as the country attempts to more than double its reliance on nuclear power by 2030. The Indian government and nuclear reactor builder Areva, a French company, plan to start construction of the $12 billion Jaitapur facility in 2018 or 2019, despite the heated protests.
---