Pakistani Taliban 'avenge' bin Laden's death with bombings
But the Taliban may be using Osama bin Laden's killing as a pretense for continuing its fight against Pakistani forces. Today's bombings targeted paramilitary recruits.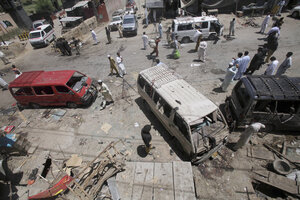 Muhammed Muheisen/AP
The Pakistani Taliban claimed a twin-suicide attack in the country's northwest that left more than 80 people dead and about 100 wounded Friday. They called the bombings revenge for the US killing of Osama bin Laden earlier this month in Abbottabad, Pakistan.
"We have done this to avenge the Abbottabad incident," Ahsanullah Ahsan, a Pakistani Taliban spokesman, told the Associated Press, also warning that additional strikes could target Americans in Pakistan.
The attack was the deadliest to occur in Pakistan this year, and targeted paramilitary recruits in the Shabqadir area of Charsadda district. Analysts say that the attack shows that Pakistan's troubles persist even with Mr. bin Laden gone, with the Taliban using anger over his death as an excuse to engage Pakistani forces in an area that has seen heavy fighting for the past four years.
"They have cloaked it as a revenge attack for Osama bin Laden's killing but I don't think deep down many Taliban eyes will shed tears for him," says Rifaat Hussain, a security analyst at the Quaid-e-Azam University in Islamabad. He adds: "This is something the Taliban are doing to send a signal to the government – if you are thinking to move against us because of international pressure, there will be huge cost."
---