How Pakistan's border region could get a few more good 'minutemen'
Tribal elder Khan rallied his lashkar, or minutemen, to repulse a Taliban attack near the Afghan border last week. He says his and other lashkars could help the government hold recently cleared turf if they received more backing.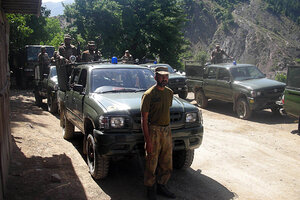 Dilawar Jan/AP
Dir and Peshawar, Pakistan
When hundreds of militants began pouring across the Afghan border into his district of Upper Dir last week, tribal elder Haji Malak Mutabar Khan gathered a few dozen neighbors, piled everyone into jeeps, and raced off to fight them.
Mr. Khan's group of minutemen – known in Pakistan as a lashkar – held down the Taliban as more locals emerged to help. The next day, the Pakistan Army arrived and routed the militants back into Afghanistan.
Pakistan could use a few good tribesmen like Khan. The military says it's worried about trying to hold recently cleared territory even as the US pushes for a major new operation in North Waziristan. Effective laskhars could do some of that work of stopping militants from hopping from haven to haven.
The problem: Most lashkars enlisted by the Pakistan government to aid in securing the border have been miserable failures, easily shut down by the militants.
"Where the government fails is that they do not back up the lashkars," says retired Brig. Saad Mohammad. "This is a full-time job, to be a part of a lashkar…. He has to be given a living. If no one gives him that, he'll put down his weapon and make it a part-time job."
The lashkars also need to be formed before militants have had time in a region to kill tribal elders and scare tribesmen, he adds. Guns, ammo, and a little show of respect helps, too.
---