Ambassador Eikenberry's pushback against Karzai: Will it make a difference?
US Ambassador Karl Eikenberry responded sharply to criticism of the US by Afghan President Karzai. His unusually tart remarks come amid growing pressure in the US to bring troops home.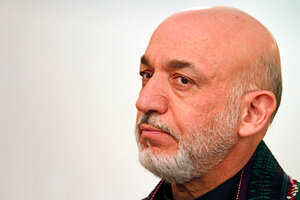 Musadeq Sadeq/AP/File
The top US diplomat in Afghanistan joined a chorus of critics of the US mission in Afghanistan this weekend when he responded publicly to Afghan President Hamid Karzai's claims that the US and NATO were "using" Afghanistan.
"At the point your leaders believe that we are doing more harm than good, when we reach a point that we feel our soldiers and civilians are being asked to sacrifice without a just cause, and our generous aid programs dismissed as totally ineffective and the source of all corruption … the American people will ask for our forces to come home," said Ambassador Karl Eikenberry in a speech on Sunday.
From Washington to Kabul, politicians have begun to look at the US mission in Afghanistan through a more critical lens. There have even been increasing calls from US Congress to accelerate the withdrawal of US forces from Afghanistan, especially since Osama bin Laden was killed inside Pakistan.
The ambassador's unusually critical remarks may be due to the fact that he is months away from finishing his post, but they point to mounting tensions between US and Afghan officials. Still it remains unlikely that his rhetoric will translate to dramatically altered action on the part of the US.
---