What Afghans think about President Obama's troop drawdown
Many Afghans have mixed feelings about tonight's announcement from President Obama that the US will begin drawing down the levels of troops in Afghanistan.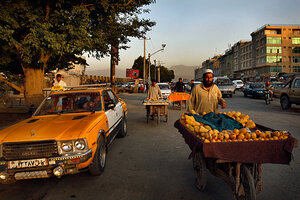 Gemunu Amarasinghe/AP
President Obama is slated to announce plans to begin a withdrawal of US forces in Afghanistan – the first of its kind since the US and NATO officially entered Afghanistan nearly a decade ago.
Though initial estimates look to be modest, many Afghans are greeting the news of US withdrawal with a mix of joy and concern.
"People are happy when they hear that the foreigners are preparing to leave. All the security problems are because of them. If they leave, who will Al Qaeda and the Taliban say they are fighting against?" says Shah Wali, a money exchanger in Kabul. "Personally, I think they should not leave too fast. They should do it step by step."
Mr. Obama is expected to make an official announcement tonight about the drawdown and exactly how many soldiers will leave.
Initial estimates indicate that the US will remove 5,000 soldiers this summer, followed by another 5,000 in the winter or spring of 2012. The US president is also looking at plans that could bring home the remaining 20,000 troops he ordered here as part of a 2009 surge by the end of 2012.
Presently, there are about 100,000 US forces stationed in Afghanistan. Since Obama took office, the number of US troops in Afghanistan has nearly tripled.
In addition to its efforts to bring security to the country, the US has invested more than $60 billion for relief and reconstruction in Afghanistan. However, many Afghans complain that those investments have not impacted their life positively, if at all.
---