Afghan security forces still not so secure after NATO boost
NATO surge strategy aims to boost Afghan security forces. But, as the recent assassination of a provincial police chief of Kandahar showed, they're still far form secure.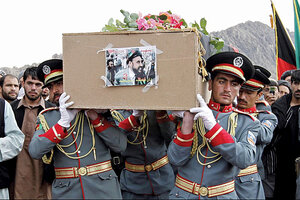 Ahmad Nadeem/Reuters
At the provincial police headquarters in Kandahar City, Gen. Khan Mohammad Mujahid enjoyed a well-appointed office with carpets kept meticulously clean despite a constant parade of policemen traipsing through in grimy boots. As the top police commander in one of Afghanistan's most violent provinces, he projected the order he hoped to instill in Kandahar.
On a Monday morning in April, his American mentor, a US Army lieutenant colonel, proudly looked on as Mujahid spoke confidently of security gains during the past several months of the surge of new troops. But with the realism of a respected fighter who first cut his teeth battling the Soviets, he pointed out the challenges ahead.
"We have destroyed and eradicated [militant] safe havens, so they don't have bases [from which] to plan their attacks," he said of the surge's effect on Kandahar. "If the US forces withdraw or remain here in smaller numbers, the police are not capable of keeping the situation secure. They need more time for training and then they will have the ability to keep the situation stable. The police are not yet professional."
The following Friday, inside the fortified police compound, a man dressed in a police uniform approached the general, hugged him, and detonated a suicide bomb. The assassination of Mujahid was one of many recent incidents that have shaken confidence in the Afghan National Security Forces. Though having grown considerably in size and ability, the ANSF is dogged by questions of its trustworthiness and how, as NATO reduces its support, it can take full responsibility for security – from local policing to national protection – as scheduled for 2014.
---