Afghanistan war: The limits of targeting Taliban leaders
President Obama said the Afghanistan war drawdown would be done from a position of strength, citing success in killing Al Qaeda leaders. But a similar campaign to weaken the Taliban has not been equally successful.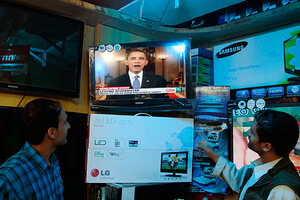 Musadeq Sadeq/AP
New Delhi; and Kabul, Afghanistan
In his Afghanistan drawdown speech last night, President Obama said the US would start withdrawing troops from a position of strength, with Al Qaeda under "enormous strain."
He attributed those gains to the targeting, capturing, and killing of terrorist leaders. Intelligence from Osama bin Laden's compound, the president said, revealed that the former Al Qaeda chief "expressed concern that Al Qaeda had been unable to effectively replace senior terrorists that had been killed."
That achievement came about mainly from the use of special forces, intelligence gathering, and drones – not a heavy troop presence. This logic aids Obama's case for withdrawing a significant number of troops as Americans tire of the war.
The problem for the US presence in Afghanistan, however, is that a similar campaign to kill Taliban leaders has not proven as successful. As troops begin to depart, US hopes for leaving behind a stable country grow more reliant on either the Afghan security forces dramatically raising their game or negotiations with the Taliban bearing fruit.
---