Indian monastery aids Tibetan monks facing crackdown
The Kirti Monastery in Dharamsala, an Indian hill town home to thousands of exiled Tibetans, has become a crisis center for the turmoil at its sister monastery under lockdown in Sichuan, China.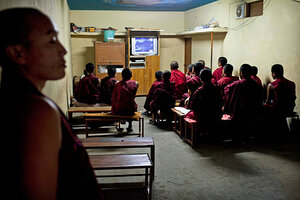 Kevin Frayer/AP
Perched on a hill in northern India, Kirti Monastery overlooks a picturesque green valley carpeted with Himalayan cedars. All appears peaceful.
But the serene image belies the crisis response management happening inside, where two monks work all hours to gather news from Tibetan monks they say are under government lockdown across the border in China. Buddhist monasteries are not normally crisis communications centers, but Kirti has assumed that role in an effort to aid the monks at its Tibetan sister monastery of the same name in southwest China.
The ad hoc effort at the monastery in India shows how technology and savvy on the part of a few can circumvent China's stringent communications clampdowns. Nevertheless, "uncensored communication links from Kirti are fragile, discrete, and under constant threat of surveillance and disruption by Chinese government authorities and security forces," says Phelim Kine, senior Asia researcher at New York-based Human Rights Watch.
On March 16, just after the 52nd anniversary of Tibet's failed uprising against China in 1959, a young monk from Kirti Monastery in Amdo Ngaba, a Tibetan district of Sichuan, set himself on fire as a form of protest. Shortly after the monk's death, Chinese placed the Amdo Ngaba monastery and its approximately 2,500 monks on lockdown. Nearly four months later reports indicate that conditions remain tense.
---