After Karzai, who will fill the power void in Kandahar?
Analysts and Afghans worry that the killing of Kandahar powerbroker Ahmad Wali Karzai will destabilize Afghanistan's south, which has seen major security gains this year.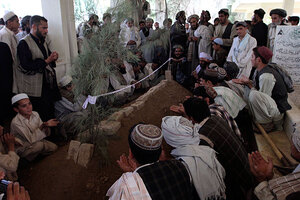 Allauddin Khan/AP
While mourners buried Ahmad Wali Karzai on Wednesday, the fate of the small empire President Hamid Karzai's half-brother left behind remains very much unsettled.
Mr. Karzai was officially the head of the Kandahar Provincial Council, but in practice he was one of the most powerful men in Kandahar – and arguably in all of Afghanistan. Few people conducted business or handled important disputes in Kandahar outside of Karzai's purview. He was also a controversial figure rumored to have ties to the drug trade and the private security industry.
Shortly after Ahmad Wali's funeral, President Hamid Karzai appointed their older brother, Shah Wali Karzai, as leader of the Popalzai tribe. This positions him as the most likely person to subsume the assassinated brother's role as head of the Kandahar Provincial Council, which remains empty.
No matter who takes the slot, analysts and Afghans alike worry that the loss of such a strong powerbroker could destabilize the south, which has seen considerable security gains in the past year.
"In the history of Afghanistan, a son has never filled the gap left by his father or brother because they have a different character and way of behaving," says Mohammed Naser Mubarez, independent analyst in Kandahar and member of Karzai's Popalzai tribe.
---