Helicopter crash kills dozens in Afghanistan: implications for US war effort?
Helicopter crash in eastern Afghanistan killed 31 US special forces troops and seven Afghan commandos. Officials are working to determine if insurgents brought down the craft, and if so, what technology allowed them to do so.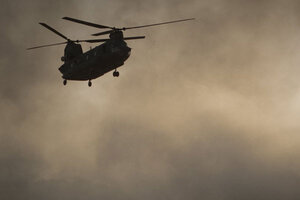 Anja Niedringhaus/AP
Kabul, Afghanistan; and New Delhi
A helicopter crash in eastern Afghanistan claimed the lives of at least 31 American Special Forces soldiers and 7 Afghan soldiers on Saturday. The loss is the biggest single day death toll for the United States in nearly 10 years of war in Afghanistan.
The Taliban claimed responsibility for downing the Chinook helicopter in Wardak Province (see map), less than 100 miles west of Kabul. Officials for the International Security Assistance Force, however, say they are still "assessing the circumstances" of the crash. They also acknowledged that there was "enemy activity in the area."
If the helicopter was shot down, it could have significant implications for the war effort. Insurgents have hit helicopters in the past, but never in any great numbers. If today's crash is an isolated incident, it is unlikely to significantly affect the direction of the war or American public perception, despite the magnitude of casualties that included so many highly trained commandos. But if it marks the beginning of a trend in which insurgents use advanced anti-aircraft weapons, it could cost NATO crucial air superiority.
---
Follow Stories Like This
Get the Monitor stories you care about delivered to your inbox.