New US military transport contract aims to end diversion of money to Taliban
The military's new transport and supply contract in Afghanistan is meant to stop US funds from being diverted to warlords and the Taliban. But many Afghans fear the damage is already done.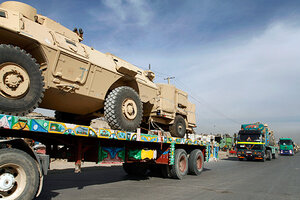 Musadeq Sadeq/AP/File
After nearly a decade of war in Afghanistan, the US military has taken steps to restructure its transport and supply contract so American money is no longer indirectly diverted to the insurgency.
The new contract, a deal between the military and 20 separate trucking and supply companies, is worth nearly $1 billion and is "specifically designed to minimize the risk of contract corruption by increasing the number of prime vendors and by providing better transparency at the sub contractor level," says a US military official in Kabul familiar with the issue. Most importantly, the new contract aims to cut out middlemen and powerbrokers who have long created problems for Afghanistan.
The move marks a significant step for the American military in Afghanistan. It may also help to check the power of a new generation of warlords who have become millionaires from providing security to American convoys and who often undercut the democratic institutions the US is working to establish here.
Among Afghans there is much relief that the US has begun taking steps to change its contracting policies, but many say that they fear the damage has already been done.
---