With peace stalled, Afghanistan looks to extend foreign aid
With Taliban uninterested in peace talks, Afghan President Karzai seeks long-term pledges from donors at peace conference in Bonn, Germany.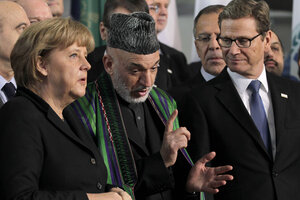 J. Scott Applewhite/AP
As Afghan President Hamid Karzai addressed representatives from about 100 countries and 60 foreign ministers gathered in Bonn, Germany to discuss the future of Afghanistan, one aspect of his speech was conspicuously brief: reconciliation with the Taliban.
As has become standard for many Western and Afghan politicians, in the middle of his speech Mr. Karzai quickly affirmed his commitment to the "reconciliation effort as the surest path to a durable peace in Afghanistan," while also acknowledging recent setbacks to the peace process.
After more than a year of concerted reconciliation efforts, many Afghans and Westerners seem to show fleeting support for peace talks, then shift dialogue to other potential solutions for Afghanistan, namely enduring international support in the form of money.
"Those who were advocating reconciliation, I think they did not understand the dynamic of Afghan conflict, including the nature of the Taliban and Pakistan's geo-strategic mindset," says Davood Moradian, a professor of political science at the American University of Afghanistan. "Now they have realized the incompatibility of our vision for Afghanistan and the region with the Taliban's vision and Pakistan's geo-strategic vision for the region."
Negotiations with the insurgency have been considered in varying degrees for a number of years now, but the Peace Jirga in June 2010 pushed the idea to the forefront of discussions.
---