Taliban talks: Another Karzai tiff with the US?
Afghan President Hamid Karzai says he will personally attend a meeting with Taliban figures in Saudi Arabia, working around Western efforts to coordinate the peace process.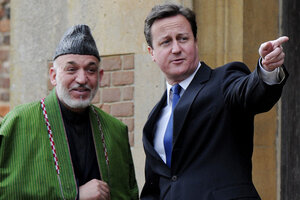 Carl Court/REUTERS
The Afghan government has announced plans for President Hamid Karzai to meet with members of the Taliban in Saudi Arabia. Many are heralding the announcement as a potential breakthrough because the Taliban has thus far refused to recognize Mr. Karzai's government.
However, news of the meeting in Saudi Arabia comes weeks after the Taliban agreed to open an office in Qatar and has raised some concern that Karzai could create the appearance of a disjointed negotiation effort that could undermine peace efforts and threaten relations between the Afghans and the West.
"The Afghan side is worried about not having a complete role, and the Afghan government is suspicious of Qatar," says Farouk Merani, an independent political analyst. "I think the Afghan government is trying to secure its own interests."
There was already tension between Western and Afghan officials when news broke last month that NATO was negotiating with the Taliban to create a political office in Qatar and had not consulted Karzai's government. In response, Karzai pulled the Afghan ambassador from Doha in December.
US and NATO officials made efforts to address Afghan concerns about exclusion from the peace process and planning for the Qatar office continued. Still, such discord may confuse future talks with lingering questions of whether Afghan and Western officials are working together.
---