Could giving the Taliban a street address bring peace to Afghanistan?
Seeking a negotiated end to the war with the Taliban, US and Afghan officials are considering agreeing to the creation of a Taliban office in Qatar that would provide an avenue for direct talks.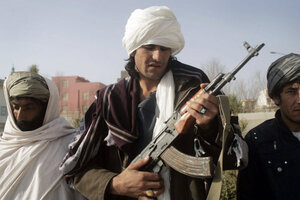 Hoshang Hashimi/AP
With the American-led war in Afghanistan well into its tenth year, Afghan and American officials are laying the foundations for a Taliban office in Qatar, something that could prove a critical step toward negotiating a settlement to the war.
At this point it's just negotiations. But among American and NATO officials, talks with the Taliban have become a major priority in the past year. If Afghan, Western, and Taliban representatives agree and officially establish a political office for the Islamic organization, it will provide a more direct means of communication and serve as a symbol that Afghan and Western officials are serious about negotiations.
Along with creating a physical address for the Taliban, a confidence-building measure of releasing several Taliban leaders from Guantanamo Bay into house arrest is also being considered.
Over the course of the past year, reconciliation efforts with the Taliban and other insurgent groups have seen a number of false starts, setbacks, and outright failures. Most recently, this month American officials who claimed they were near a breakthrough with the Taliban saw negotiations crumble due to objections from Afghan President Hamid Karzai.
Despite difficulties, both Afghan and Western officials have continued to look toward reconciliation as the most likely means of ending the war here. Creating an official headquarters for the Taliban would provide a much clearer conduit for officials to communicate with the Taliban, and help avoid further missteps, such as inadvertently negotiating with imposters, as happened in November 2010.
"If the Taliban intend to operate from an office in Qatar, we could see a development in the peace process," says Waliullah Rahmani, executive director of the Kabul Center for Strategic Studies. "An office in Qatar for the Taliban would make them more independent of Pakistan and the ISI. It would give them more ground to maneuver in the peace process with the Afghan government and the international community."
---