What happens when troops - and money - leave Afghanistan?
The drawdown of foreign troops – now slated for 2013 – could destabilize Afghanistan's economy – or, according to some, help stem rampant corruption.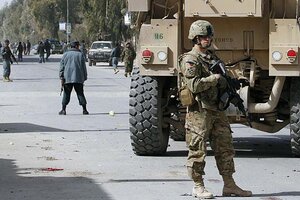 Ahmad Nadeem/Reuters
After three decades of conflict, Afghanistan has a complicated relationship with war.
No one wants the fighting to continue. But many are worried what will happen if the foreign aid, social opportunity, and, in some parts of Afghanistan, relative security the fighting has brought ends.
As the international community accelerates its withdrawal from Afghanistan, many here say they'll be fine. As long as foreign spending continues, they say, security and the new status quo will remain. If the US and its allies cut development spending as their troops leave, however, many Afghans and aid workers worry that it could have a devastating affect on everything from women's rights to the stability of the entire economy.
"There will be much corruption on one side, and on the other, there will not be enough troops to secure the country, especially the rural areas," says Mahmood Khan, a member of parliament from Kandahar Province.
Still, reflecting the view of many Afghans, he doesn't think that Afghans or the international community will give up on the development work they have started. "Something has been done in the last 10 years, and we have spent lots of money which has come from foreign sources."
Shifting war timetable, shifting money
Last week, US Defense Secretary Leon Panetta announced that American troops would switch from a combat role to a support role in Afghanistan by mid- to late-2013, with all provinces in Afghan control by the end of 2014. The news came after French officials announced that all 3,600 of their troops stationed here will be completely withdrawn by mid-2013.
---