Elections in India point to political upheaval ahead
The poor showing for the ruling Congress Party in the bellwether state of Uttar Pradesh suggests the government could be turned out in national elections ahead.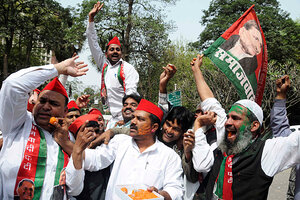 Reuters
The poor performance of India's ruling Congress Party in the Uttar Pradesh state elections suggest that larger political changes are around the corner in the world's largest democracy.
"The writing is on the wall," says Yashwant Deshmukh, a New Delhi based political analyst. "Congress will not do well in the 2014 [national] elections."
The party was counting on the dogged campaigning of Rahul Gandhi, who is a descendant of three prime ministers as the son Rajiv Gandhi, grandson of Indira Gandhi, and great-grandson of Jawaharlal Nehru. The party will now have to decide whether to delay fronting Mr. Gandhi as their standard bearer in national elections at a point when other leaders like Prime Minister Manmohan Singh are advanced in years and hobbled by scandals within their governing coalition.
"The defeat in Uttar Pradesh is a good lesson for me,'' Gandhi told reporters. ''I led from the front in UP and the blame is entirely mine."
Rahul said the Congress' organizational structure in the state was weak and needs to be shored up ahead of the 2014 national elections.
With 200 million people and 80 seats in the nation's parliament, the northern state of Uttar Pradesh holds immense influence in the country's politics and has been billed as a bellwether for the coming national contest.
Congress hoped to win enough seats in the 403-member assembly to form part of the new government, but came in fourth place winning fewer than 40 seats of the originally anticipated 100. With the counting nearly completed, a regional caste party, the Samajwadi Party, won in a landslide with at least 217 seats.
---