India tests ways to help farmers cope with climate change
Concerns about how climate change may be affecting India are bringing fresh urgency – and funding – to longstanding challenges in sustainable agriculture.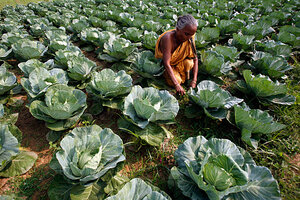 Jayanta Dey/Reuters/File
Like his father, Venkatappah has spent his life growing rice and vegetables on two acres of land in this village three hours from Bangalore. Harvesting a good crop from these dry, rocky slopes has become tougher in recent years as the monsoon rains have become more erratic.
Rainfall was poor last year, and worse this past summer. "There was a lot of rain in a few days, then there was nothing for a long time," says Mr. Venkatappah, who uses only one name.
This year, however, he hoped that a new government project would help him avert the worst. With the aid of officials, Venkatappah dug ponds upland to catch and store rainwater, scooped trenches and bunds around his fields to help conserve the run-off, and diversified his crops to lower his risks.
A number of new initiatives in India are testing ways to help farmers like Venkatappah cope with changing weather as concerns about climate change bring fresh urgency – and funding – to longstanding challenges in sustainable agriculture.
The biggest of these efforts is the National Initiative for Climate Resilient Agriculture (NICRA), a $63-million government pilot program covering 130 villages including Nagenahalli. Like the other projects, it promotes water and soil conservation and tries to improve access to better seeds and infrastructure as well as modern weather and crop data.
"The aim is to offer a model for reducing the vulnerability of farmers" in drought or flood prone areas, says Sreenath Dixit, a principle scientist and coordinator for the NICRA program.
Projected increases in temperature and variable rainfall are expected to most affect farmers in developing countries like India, where the majority of people are still employed in agriculture and most farms depend on monsoon rains for irrigation.
---