Hetherington, Hondros, and the risks journalists take
(Read article summary)
The two photojournalists Hetherington and Hondros, both men at the top of their craft, were among 10 people killed in the western Libyan city of Misurata yesterday.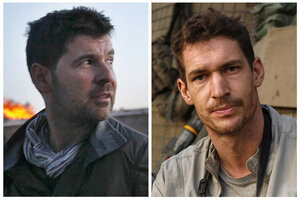 Reuters
Tim Hetherington, a photojournalist and director of the Academy Award-nominated documentary Restrepo, and Chris Hondros, an award-winning photographer, were killed in a mortar strike yesterday in the besieged Libyan city of Misurata.
Also killed in the city yesterday were seven local civilians and a Ukrainian doctor.
Both Mr. Hetherington and Mr. Hondros dedicated their adult lives to recording conflict.
Hetherington spent a year in Afghanistan's Korengal valley, and his work there formed the basis of "Restrepo," which he made with the journalist Sebastian Junger. It's without a doubt the finest documentary about the US military effort in Afghanistan, and one of the finest films about America at war, period.
---