Italy and France join UK sending advisers to Libya, testing limits of UN resolution
In addition to dispatching military experts with Italy and Britain, France has pledged to increase airstrikes as Europe steps up military operations in Libya.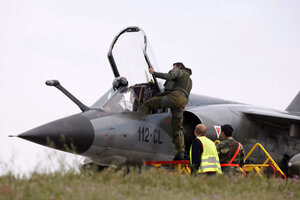 Reuters
A day after Britain announced it would send military experts to Libya to train rebels, France and Italy have made similar statements that together show a growing frustration in Europe with a stalemate in the Libyan conflict.
By sending advisers who will establish a direct link with the rebels, London, Paris, and Rome appear to be testing the limits of UN Resolution 1973, which authorizes member states to take all necessary measures short of a foreign occupation to protect civilians under attack in Libya.
"There is a real risk of mission creep," says Alessandro Marrone, researcher at the Institute of International Affairs (IAI) in Rome. "I don't think anyone in France or Italy is concerned about a ground invasion of Libya – that has been explicitly ruled out. But if military advisers on the ground help the Libyan rebels or even help coordinate NATO airstrikes, that's changing the role of the mission."
---