Kosovo's independence weathers its first week
Serbia said it was hunting down rioters who torched the US Embassy in Belgrade Thursday as 120,000 protested the province's newly declared statehood.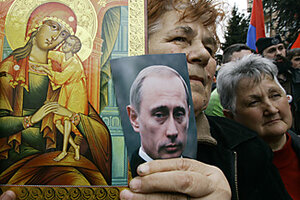 Srdjan Ilic/AP
Sarajevo, Bosnia-Herzegovina
As Kosovo marked its first week of newly declared statehood Sunday, unrest in the region had echoes of the ethnic violence that plunged the Balkans into war in the 1990s. But despite Serb torching of border posts and the US Embassy in Serbia, few observers here expect a repeat of that decade.
They do warn, however, that Kosovo's newly declared statehood, as well as security in the region, will depend on how far the Serbs – and to an extent the Russians – are willing to go in their bid to keep Kosovo part of Serbia. Keeping a lid on Kosovo, where Serbs engaged in a seventh consecutive day of protesting Sunday, will also be vital.
The Serbian capital was quiet over the weekend after a 120,000-strong protest in Belgrade Thursday ended with several hundred rioters setting fire to the US Embassy, prompting a US staff pullout over the weekend. Serbia's top state prosecutor said Sunday that authorities were hunting for the instigators, and police said they had arrested 200 Thursday night. But some government officials have endorsed the violence, both in the capital and in the north of Kosovo – particularly in the ethnically divided city of Mitrovica.
"One minister said it was OK to break some glass during a demonstration, another said it was legal if Serbs burn down the border crossings, and you had some very tough anti-US speeches and statements by [Prime Minister Vojislav] Kostunica," says Braca Grubacic, editor of the VIP newsletter in Belgrade.
---