Divided over Kosovo, Serbia faces early elections
Prime Minister Kostunica dissolved the coalition government Saturday after a bitter standoff between hard-line radicals and pro-European forces.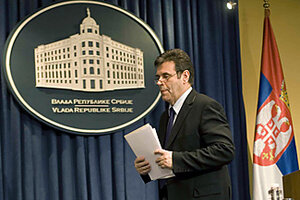 Srdjan Ilic/AP
MADRID, Spain; and PRISTINA, Kosovo
Serbia narrowly elected a pro-European president, Boris Tadic, only weeks ago. But that was before the Albanian majority in sacred Serbian province of Kosovo declared independence, putting much of Serbia in sackcloth and ashes.
Now the coalition government, unable to agree on a Kosovo policy, has fallen. In early May, Serbia's weary electorate will again go to the polls to choose between a radical pro-Russia vision of the future versus a Western, pro-Europe one. Except this time, instead of electing a president who can only try to point the parliament in certain directions, they will usher in an entire new government.
US and European diplomats are concerned that the ultranationalist Radical Party will use the highly emotional issue of Kosovo to win, which could bring further instability in the Balkans.
In Belgrade, the Jan. 28 vote for Mr. Tadic never really took hold. The government was paralyzed from the start, resulting in bitter standoffs between the democrats and hard-line radicals.
---