After Kosovo violence, NATO vows to restore order
The clash between UN peacekeepers and Serb protesters at a Mitrovica courthouse could bolster hard-liners in Belgrade ahead of May elections.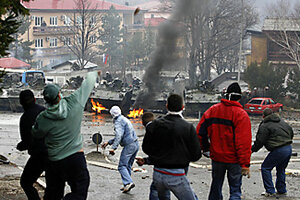 Marko Djurica/REUTERS
A messy and serious conflict Monday between hard-line Serbs and United Nations peacekeepers in north Kosovo on a sensitive anniversary for Serbs, analysts say, plays into a strategy in Belgrade: keep the Serbian electorate emotionally charged prior to crucial elections in May.
The vote, called after the Serb government fell last week, will decide whether Serbia, the largest state in the south Balkans, chooses a moderate pro-Europe or a radical nationalist pathway – a decision influenced heavily by events on the ground in Kosovo and one closely watched in Western capitals.
"We are holding Belgrade accountable [for the violence in Kosovo]," chief NATO spokesman James Apparthurai told the Monitor. "That's where we are looking in regard to these actions. But we plan to restore order, that's certain."
In the early morning hours Monday, Polish UN police retook a courthouse in Mitrovica occupied nonviolently on March 14 by Serb court employees, judges, lawyers, and staff who wanted to be paid by the UN.
The police detained the protesters, say UN sources in Kosovo's capital, Pristina, and the operation at first seemed peaceful. Yet large crowds attacked the largely Polish UN police force, injuring some 22 of them, along with eight French, and forcefully retook several detainees.
---