Political strife deepens in Turkey
Two cases have the nation on edge. While the government goes after an ultranationalist gang, prosecutors want to ban the ruling party on charges of Islamist subversion.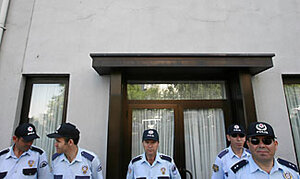 Umit Bektas/Reuters
A high-stakes political drama has gripped Turkey. And now the nation anxiously awaits the next development in an unfolding story that involves coup plots, arrests of journalists and generals, and charges of Islamist subversion.
The country's top prosecutor is on the verge of issuing a 2,500-page indictment against an ultranationalist group that promises to read like a thriller and shine a bright light on the deepening political and social divisions in Turkish society.
At issue are two cases that could redefine both politics and nationalism in ways unprecedented in modern Turkey.
In one, Turkey's top prosecutor is arguing that the AKP and its 70 top members – including the prime minister and president – should be banned for aiming to impose Islamist rule. Arguments began July 1 and are expected to wrap up within a few weeks.
Hours before the court began hearing the complaint against the AKP, the Turkish government made 23 predawn arrests in its own case against an ultranationalist gang called "Ergenekon," which it says sought to sow chaos to prompt a military coup against the elected Islamic-rooted government.
Two retired Turkish four-star generals were locked up Sunday, the latest to be imprisoned on suspicion that they were behind the shadowy organization. Opponents of the government – who often invoke the name of Turkey's stridently secular founder, Mustafa Kemal Ataturk – charge that the detention of "patriots" is politically motivated.
Indictments in the Ergenekon investigation have not yet been issued, even though it has been 13 months since 27 grenades and other explosives were found in an Istanbul apartment, ushering Ergenekon into the Turkish lexicon for the first time as a hard-line group with high-level contacts that aimed to topple the AKP government.
---