G-20: Strong hand of Angela Merkel
While French and British leaders have been high profile, the low-key German chancellor is getting credit for the summit's regulatory focus.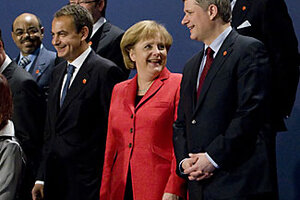 Adrian Wyld/The Canadian Press/AP
With the dust now settling in London after two days of posturing and hard bargaining, some observers are mischievously suggesting that neither French President Nicolas Sarkozy, with his aggressive push for ending tax havens, nor British Prime Minister Gordon Brown, who unveiled the final communique from the Group of 20, was the summit's driving force.
And no, it wasn't President Obama, either.
Instead, another leader, who kept a much lower profile, can claim considerable ownership: German Chancellor Angela Merkel.
To be sure, she and President Sarkozy teamed up to draw an eve-of-summit line in the sand against a global fiscal boost for the world economy. At at the summit's conclusion, a jubilant Sarkozy said they got more than they could have hoped for.
But while the chancellor appeared almost diffident in the company of her flamboyant French counterpart, many suspect that she was the truly senior partner. Many observers say that the summit would not have had its strong regulatory focus without her.
"She is perceived to be lacking in assertiveness at home, where she faces an election this year, and the G-20 was an opportunity for her to show that she was a world leader," says Thomas Saalfeld, a professor at the University of Kent who specializes in German politics. "From reports back in Germany, she has been successful in positioning herself as one of the three or four people who really mattered at this summit."
---