Cyprus: Are old friends offering new hope for unity?
The presidents leading either side of the divided island are longtime allies.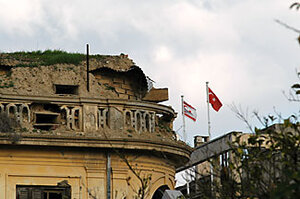 Sven G. Simonsen
For 35 years, Greek Cypriots and Turkish Cypriots have lived separate lives on the same island. Reunification talks that began last fall may be the best chance yet for a solution, thanks to an unlikely decades-long friendship between the leaders of the two sides.
Although a recent electoral win by a nationalist Turkish Cypriot party highlight obstacles that remain before the island is united, the February 2008 victory of communist leader Demetris Christofias in the presidential elections in the Republic of Cyprus has brought new hope to reunify communities that have been divided for a generation.
Prior to the 1974 division, Mr. Christofias was a political ally of Mehmet Ali Talat, the current center-left president of the Turkish Republic of North Cyprus (TRNC), a state that only Turkey recognizes. The good relations between the two leaders have endured.
"After so many decades, perhaps this is a lucky coincidence – that the leaders on both sides are more prone to be working for a solution," President Talat recently told the Monitor.
Coincidence or not, backers of reunification are trying to seize the moment, says Giorgios Iacovou, former foreign minister of the Republic of Cyprus and now the Greek Cypriot chief negotiator.
"This is a very good opportunity, that we really must make use of," he says.
The last major effort toward a solution led to the 2004 referendum on the UN-brokered Annan Plan, which would have reunified north and south in a new federation. That plan was scuttled when three quarters of the Greek Cypriots voted against it.
---