Why Europe doesn't want an invasion of body scanners
In Europe, body scanners may simply not be cost-effective, regardless of whether they represent a real health risk or the digital equivalent of a strip search.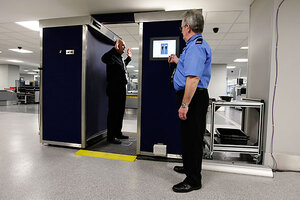 Jon Super/AP
To borrow a phrase from counter-terrorist parlance, Umar Farouk Abdulmutallab's alleged plot to bring down a Detroit-bound airliner on Christmas Day was a "game changer."
As a reluctance to introduce body scanners at airports eases, two countries deploying them nationwide this month include Britain, reportedly a key setting for the Nigerian student's radicalization, and the Netherlands, where Mr. Abdulmutallab passed through undetected before boarding a flight to the United States.
But ardent opposition to them – including in the ranks of Europe's bureaucratic elite – may yet frustrate their international rollout. Beyond campaigners who worry about supposed health risks or view them as the digital equivalent of a strip search, many European aviation-security experts remain unconvinced of the cost benefits.
Frisking much less costly
"A thorough body frisk would do the same sort of thing, if it is done properly, and of course it costs a lot less," says Norman Shanks, a former head of security for the British Airports Authority, the United Kingdom's leading airport operator, who cautions that the technology is being viewed as a "panacea."
---