Full-body scan or not? Europe divided on airport security steps
Belgium, Spain are skeptical that there's a need for more full-body airport scanning machines. France and Germany are uncommitted as European Union members meet today to discuss airport security measures.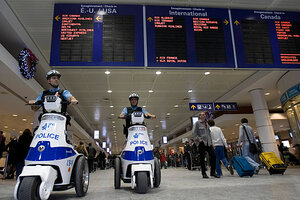 Christinne Muschi/Reuters
European nations were sharply divided Thursday over the need to install full-body scanners at European airports, with some EU members playing down the need for beefed-up security measures.
Italy on Thursday joined the United States, Britain and the Netherlands as nations who have announced plans to install the scanners following a Nigerian man's reported attempt to blow up a U.S. airliner flying from Amsterdam to Detroit on Christmas Day.
Washington is seeking enhanced security measures on all trans-Atlantic flights heading for the United States. That's a huge task, however, since European airports carry thousands of passengers on over 800 flights a day across the lucrative North Atlantic route.
But as EU aviation security experts met Thursday on the subject of scanners, Belgium's secretary of state for transport, Etiennne Schouppe, described such enhanced measures as "excessive," saying security requirements at European airports are already "strict enough."
Spain too has expressed skepticism about the need for body scanners, and the German and French governments remain uncommitted.
---