Greece bailout: What's the future of the euro?
The Greece bailout package agreed to by European leaders and the International Monetary Fund last week decreases the likelihood of a Greek government default. But the wrangling over the bailout -- and the steps that left Greece in a financial hole -- raise questions about the prospects for the stability of the euro.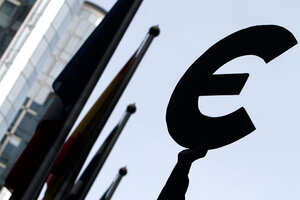 Virginia Mayo/AP/File
Faced with the gravest crisis yet in the history of the decade-old euro, European Union leaders met in Brussels last week to thrash out how to protect the currency's Achilles' heel: Greece.
By summit's end, the 15 eurozone countries (other than Greece) and the International Monetary Fund (IMF) had agreed to a package of loans that may head off a crisis for now. While no figures were announced formally for the Greece bailout, officials said the amount available could total €22 billion ($29 billion). The money would be made available if Greece ends up facing default. The promise of availability will now, the country's involved hope, act as a buffer for market confidence in Greece and make it easier for the country to raise money on the open market.
Despite the agreement, Greece's debt, far larger than eurozone rules allow, is likely to remain a source of anxiety for the currency for some time.

Why are the woes of the Greek economy so linked to the health of the euro?
Greece has long lived beyond its means while concealing a ballooning deficit. Greece must refinance much of its €300 billion ($419 billion) debt by the end of May or risk default. A default would blow a hole in the credibility of the eurozone. "If we created the euro, we cannot let a country fall that is in the eurozone. Otherwise, there was no point in creating the euro," warned French President Nicolas Sarkozy.
---