String of bombings hits Russia's Caucasus: first Dagestan, now Ingushetia attack
An Ingushetia attack killed two police officers on Monday, continuing the near daily terrorist attacks in Russia's Caucasus since the devastating Moscow metro bombings last week.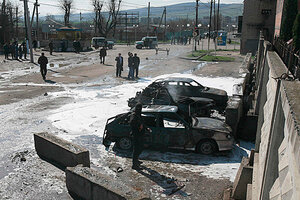 Kazbek Basayev/Reuters
Another suicide bombing killed two policemen in the troubled southern republic of Ingushetia on Monday, rattling nerves around Russia, which has seen five terrorist attacks that have left nearly 60 people dead and scores injured since two deadly explosions hit Moscow's metro system a week ago.
The latest blast came after a man entered a police station in the town of Karabulak, where about 50 officers were gathered for their morning briefing.
"The man approached two police guards," the official ITAR-Tass agency quoted an Ingush security official as saying. "He seemed suspicious to them and when they attempted to check his documents, he triggered the explosive device."
Two officers were killed, and a third injured. A second explosion detonated in a nearby parked car a few minutes later – a tactic frequently employed by north Caucasus militants, aimed at striking investigators as they gather at the attack scene – but no one was harmed.
A flurry of attacks
Ingushetia has seen escalating violence in the past two years amid an Islamist insurgency that's spreading across Russia's volatile and mainly Muslim Northern Caucasus region.
Another republic that has seen growing terrorist violence is Dagestan, a multiethnic Caspian province, where suicide bombers struck twice last week. On Sunday, two massive bombs planted beneath the railway tracks near the Dagestani capital of Makhachkala destroyed a freight train, which had come from Moscow, but did not cause any casualties. (Video report below.)
---