Available now: a volcanic ash detector for aircraft
A scientist in Norway has developed an infrared volcanic ash detector that allows aircraft to see and avoid the Iceland volcanic ash clouds invisible to radar.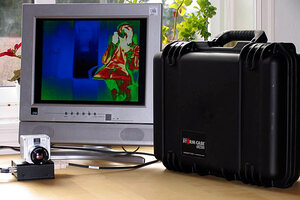 Photo courtesy Fred Prata
If Boeing or Airbus had listened to Fred Prata, Europe might not have had to shut down their skies to aircraft for a week.
Atmospheric scientist Dr. Prata has developed a volcanic ash detector that allows aircraft to see the microscopic floating ash and avoid it. In fact, he's got six units sitting on a shelf.
Iceland's volcanic ash cloud drifting over Europe is invisible to radar. It's too small to be seen. But Prata's device relies on infrared wavelength detection.
"It detects the volcanic silicates that absorb infrared radiation," explains Prata, who now works at the Norwegian Institute for Air Research (NILU) in Kjeller. The airborne silicates are the tiny pieces of volcanic glass and rocks that get sucked into jet engines and pelt aircraft windshields and instruments.
He says the device can also be configured to detect ice in clouds and certain kinds of clear air turbulence (also invisible to most radar).
The ash detector, developed with funding by the Australian government's Commonwealth Scientific and Research Organization (CSIRO), where Prata worked for 21 years, has been field tested several times. But during that period, interest in it has ebbed and flowed.
---