Russian fires prompt Kremlin to abruptly embrace climate change
Amid what is called the worst Russian fires in history, President Dmitry Medvedev – who recently dismissed concerns over emissions – embraces the need to address climate change.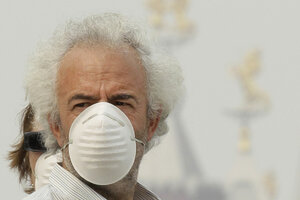 Ivan Sekretarev/AP Photo
Russia's ongoing heat wave, along with its disastrous fallout, may have finally persuaded the Kremlin to combat climate change.
Russian officials, who have until now resisted dramatic action out of fears it would dampen economic growth, have lately issued strong statements linking global warming to the emergency Russia is currently facing. Some hope the abrupt change of tune will result in more effective environmental policies, even after the smog dies down.
"There is no question that we need to get ahead of climate change," says Vladimir Slivyak, co-chair of Ecodefense, a grass-roots Russian environmental group. "This is a wake-up call."
Moscow-region fires triple in size
The crisis, which seems to have taken the Kremlin by surprise, features a fierce and unremitting heat wave that's now well into its second month, a drought that has ruined up to a third of the vitally important grain crop, and a wave of seemingly irrepressible wildfires that have blanketed half of European Russia – including the capital, Moscow – in a cloud of smoke.
Russia's state meteorological service said smog conditions in Moscow have eased from a Saturday peak, but the Ministry of Emergency Services warned that Moscow-region fires have tripled size in the past week, spreading from 65 to 210 hectares. Meanwhile, an average of 700 people are dying per day in Moscow – a doubling of the average rate, which health officials blamed on the smog.
---