Turkey referendum boosts Erdogan's Islam-rooted AKP party
Today's Turkey referendum resulted in a significant boost to Prime Minister Recep Tayyip Erdogan's ruling AKP party as voters approved 26 amendments to the country's 1982 Constitution.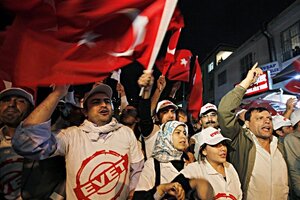 Osman Orsal/Reuters
Voters approved 26 amendments to Turkey's Constitution on Sunday in a bitterly contested referendum that has exposed the depth of social divisions in the country.
In the simple "yes" or "no" ballot, 58 percent voted for changes to the charter written in the aftermath of a 1982 military coup. Some 42 percent voted against the amendments, leaving a 16-point margin of victory – far larger than most polls predicted.
The referendum's biggest winner was Prime Minister Recep Tayyip Erdogan, who faces a general election next year with his ruling Justice and Development Party (AKP).
Mr. Erdogan fought off a stiff challenge from opponents convinced the changes would compromise the judiciary and cement power by the Islam-rooted party. After all, two of the amendments give the government much greater influence over the judiciary – seen by many Turks as one of the last guarantors of the secular tradition enshrined by Mustafa Kemal Ataturk when he forged modern Turkey in 1923. But Erdogan and his supporters claim that the changes are necessary to democratize the country in line with European standards and make the military more accountable to civilian rule.
"We have passed a historic threshold on the way to advanced democracy and the supremacy of law," said Erdogan to applause from supporters gathered to celebrate the victory. "Supporters of military intervention and coups are the losers tonight."
Deep divisions
The divisions could easily be seen in a single polling station in downtown Istanbul, where both sides lined up to vote.
---